Hibbett Sports Charitable Giving
Hibbett Sports is dedicated to improving the lives of the communities we serve and proudly support causes that help our customers in need. We partner with nationally recognized charitable organizations in an effort to positively affect as many people as possible. If you have any questions about our charitable giving, please contact us via email at: grassroots@hibbett.com.
---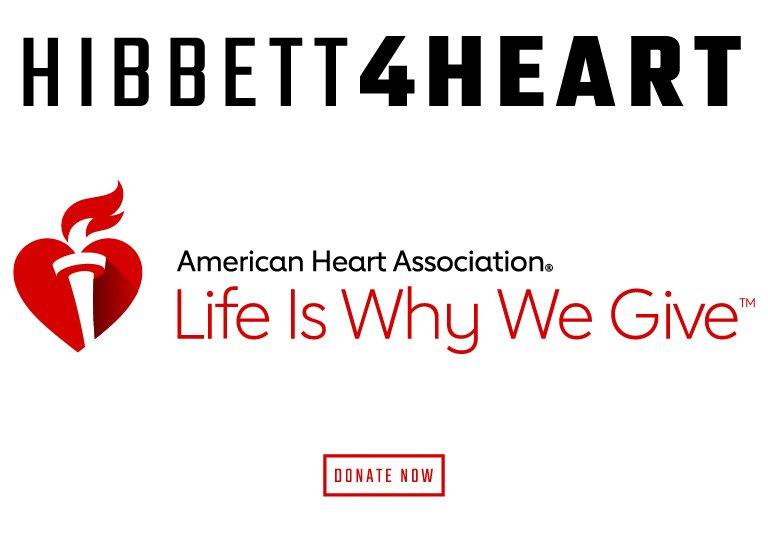 ---
---
"We're proud to team with the American Heart Association in their mission to promote healthy and active lifestyles, and we are excited help bring this message to the communities that we serve."
— Sarah Sharp-Wangaard, Hibbett Sports VP Marketing
Hibbett Sports is proud to support the American Heart Association. Every year in April, we strive to raise donations for the American Heart Association AHA online and at our 1,000+ retail stores across the country.
Hibbett Sports supports the American Heart Association with a shared goal of promoting healthy and active lifestyles. By working together, we can make a positive impact in all the states Hibbett Sports are located, and ultimately, help save lives with the money we raise.
By donating to the American Heart Association, you'll be helping to build healthier lives, free of cardiovascular disease and stroke. Need help finding a store? Click here. Please Click here to visit a dedicated landing page to donate on Hibbett Sports' behalf to help us support the American Heart Association.
Get Involved. If you're local to Birmingham, AL, join employees from Hibbett's HQ at the annual Birmingham Heart Walk. Find out more here.
Get City Gear Involved. If you have an event you feel City Gear would be a perfect fit for fill out a Sponsorship Request form and some one from City Gear will reach out to you.