HIBBETT REWARDS TERMS AND CONDITIONS
Date of Last Revision: December 31, 2018
PLEASE READ CAREFULLY. By accessing or participating in the Hibbett Rewards Program, you agree to these Terms of Use and all Terms incorporated by reference.
General
The Hibbett Rewards program ("Hibbett Rewards" or the "Program") is offered at the sole discretion of Hibbett Sporting Goods, Inc. ("Hibbett"). The Program was formerly known as Hibbett Sports MVP Rewards. The name of the Program has changed to Hibbett Rewards, and these Terms and Conditions (the "Terms") supersede and replace the Hibbett Rewards Terms & Conditions last updated on September 20, 2017, which terms and conditions are no longer in effect. Hibbett reserves the right, at its discretion and at any time, with or without notice, to modify, add or delete any Hibbett Rewards rules, terms, conditions, point calculations, rewards and point totals, and to terminate Hibbett Rewards participation or enrollment at any time. Any changes or modifications will be effective immediately upon posting the revisions to www.hibbett.com, and you waive any right you may have to receive specific notice of such changes or modifications. Your participation in Hibbett Rewards confirms your acceptance of these Terms and any such changes or modifications therein, INCLUDING THE AGREEMENT TO ARBITRATE AND CLASS ACTION WAIVER PROVISIONS BELOW.
Participation
Hibbett Rewards is open to legal residents of the 50 United States and the District of Columbia (excluding U.S. territories) who are thirteen (13) years of age or older at the time of enrollment and participation and are not employed by Hibbett or any of its subsidiaries or affiliates. Hibbett Rewards is not targeted towards, nor intended for use by, anyone under the age of thirteen (13). If you are between the ages of 13 and 18, you may only use Hibbett Rewards under the supervision of a parent or legal guardian who agrees to be bound by these Terms. Some activities or rewards may be available only to those of other ages (always older than 13, e.g., 18 or 21), as indicated in the rules/instructions for the particular activity or reward description. Participation in the Program is void if prohibited by law in the jurisdiction in which the prospective participant resides. The Program is a United States program and is governed by United States law and, as set forth in the Dispute Resolution portion of these Terms below, the Hibbett Rewards Terms shall be governed by and construed in accordance with the laws of the state of Alabama. If you were a member of Hibbett Sports MVP Rewards you have been automatically enrolled in Hibbett Rewards effective April 24, 2017, and your Point total balance is unchanged by these Terms. Your Hibbett Sports MVP Rewards Point balance as of April 24, 2017 is your beginning Point balance in your Hibbett Rewards account.
By joining and participating in Hibbett Rewards, you represent that you are 13 years of age or older, and, by using Hibbett Rewards, you agree to be bound by these Hibbett Rewards Terms and the Hibbett Terms of Use. You must have a valid email address to participate in Hibbett Rewards. Registration must be completed online at Hibbett Rewards Online Registration. Each Hibbett Rewards participant ("Participant") consents to receiving advertisements, marketing materials, emails and other communication from Hibbett and/or its vendors, with the option to opt-out. Participants are responsible for notifying Hibbett of any changes of address, email address and/or phone numbers. Each Participant will be issued one Hibbett Rewards card ("Card"). If you have previously been issued a Hibbett Sports MVP Rewards Card, said card will function as your Card for this Program. Each Card is nontransferable and cannot be used to earn Points unless tendered by the named cardholder at the time of purchase. Only one named cardholder is allowed per account. Lost or stolen Cards will not be replaced. Hibbett Rewards is valid only at participating Hibbett retail store locations.
If Hibbett determines that a Participant has more than one (1) Hibbett Rewards account, Hibbett reserves the right without notice to Participant to consolidate all such accounts into a single Hibbett Rewards account associated with a Participant's email address and to include all Points balances from the multiple accounts in the single remaining Hibbett Rewards account.
Earning Points
"Points" may be earned with in-store purchases (except layaways, team orders, special orders and gift cards) and online purchases at www.hibbett.com and using a Hibbett Mobile App. Points earned will be posted to a Participant's account within 72 hours of achievement. For eligible in-store purchases, Points earned will be posted to a Participant's account within 72 hours of completion of purchase. For eligible online purchases, Points will be posted to a Participant's account within 72 hours of completion of the online transaction. In the case of an online transaction that includes purchase of multiple items, the online transaction shall not be considered complete until all items ordered have shipped to Participant or, if an item is unavailable, until the request for purchase of that item is canceled by Hibbett due to lack of availability. Points may be tracked by logging into a Participant's account on www.hibbett.com. All Points reporting is final. Points earned for in-store purchased items or items purchased on www.hibbett.com or on a Hibbett Mobile App will be for the actual paid purchase price only, excluding any coupons or Awards used. Points are not awarded on any tax paid on purchases or on any shipping charges. When a purchased item on which Points were earned is returned to the place of purchase for any reason, its purchase Points will be deducted from the account to which the Points were credited. In the event of a return it is possible that the balance in a Participant's Hibbett Rewards account will be negative. For example, if a Participant purchases an item and thereby earns Points that are converted to an Award (as set forth below), this could leave the Participant with a low Points balance. If the Participant then returns the item, the Point value of the returned item will be deducted from the Participant's Hibbett Rewards account. In the case of a Hibbett Rewards Account with a low balance this return can produce a negative balance when the Points associated with the purchase are deducted from the Participant's Hibbett Rewards account.
There are two tiers of Hibbett Rewards membership, MVP and VIP. The benefits of each membership tier are summarized below: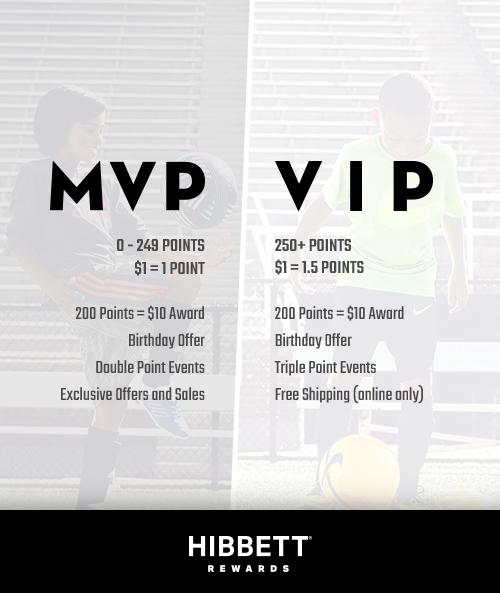 Once a Participant reaches VIP status the Participant shall retain VIP status until such time that Hibbett determines, in its sole discretion based upon Participant's purchase history, that the Participant no longer merits VIP status.
Points themselves have no cash value and are not redeemable. Only Awards (as hereinafter defined) are redeemable. Points will be converted into an Award periodically at the discretion of Hibbett and at a current rate of one $10.00 Award for every 200 Points earned. If Points have not been converted into an Award within twelve (12) months of the date on which the Points are earned by a Participant, those Points shall expire, will be removed from a Participant's account, and shall not be available for conversion into an Award. A Participant shall not receive any benefit of any kind for having earned Points that expire before they are converted into an Award. Notifications of Awards will be sent to the Participant via email to the email address on the Participant's account. Once converted into an Award, Points are deducted from the Participant's Hibbett Rewards account and will not be credited back therein. Hibbett is not responsible for Awards that are lost, delayed, misdirected, or not timely redeemed. Awards are non-transferable and shall expire on the earlier of the date of use or forty-five (45) days from issuance, unless a different date is shown on the Award. The sale or barter of any Award is expressly prohibited. Other restrictions or exclusions may apply.
Redeeming Awards
Awards can be redeemed for in-store purchases (excluding layaways, team orders, special orders and gift cards) at participating Hibbett stores and at www.hibbett.com only or a Hibbett Mobile App only. Awards may not be redeemed for special orders, gift cards, cash, store credit, shipping charges, or to pay sales tax. Awards may be used only once and may not be duplicated or photocopied. Further, in the event that Awards are electronically distributed, Awards may be printed only once. Awards are personal to the Participant named thereon. Awards may only be redeemed for a discount off purchase amounts equal to or greater than the amount of the Award presented for redemption, excluding sales tax. No cash value, credit or change will be given. Participant is responsible for any applicable sales tax. Awards may not be combined with any other coupon or employee discount. Hibbett is not responsible for any Award not redeemed by the expiration date thereon. Failure to use an Award by the expiration date thereon shall result in the forfeiture of such Award and the associated Points used. In the case of fraud, misrepresentation, abuse or violation of these Hibbett Rewards Terms. Hibbett reserves the right to take all available legal or administrative action, including the forfeiture of accumulated Points, cancellation of unredeemed Awards, and/or termination of Participant's Hibbett Rewards account. Other restrictions or exclusions may apply. Awards are void where prohibited.
Termination
Hibbett reserves the right to terminate a Participant's Hibbett Rewards account at its discretion. Further, Hibbett has the right to terminate the Hibbett Rewards program at any time, without prior notice. Participants may cancel their participation in the Hibbett Rewards program at any time by sending written request to mvprewards@hibbett.com. Please allow up to thirty (30) days for the fulfillment of a cancellation request. In any case of termination or cancellation of the program or a Participant's participation therein, all unconverted, accumulated Points in a Participant's account shall be forfeited and Hibbett will not be responsible for such accumulated Points or any unredeemed Awards.
Privacy
Any personal information sent to and collected by Hibbett as part of the Hibbett Rewards program will be used by Hibbett in accordance with its Privacy Policy.
LIMITATION OF LIABILITY
HIBBETT SHALL NOT BE LIABLE FOR ANY DIRECT, SPECIAL, INCIDENTAL, INDIRECT OR CONSEQUENTIAL DAMAGES ARISING OUT OF OR RELATING TO THE HIBBETT REWARDS PROGRAM, EVEN IF HIBBETT HAS BEEN ADVISED OF THE POSSIBILITY OF SUCH DAMAGES. THIS IS A COMPREHENSIVE LIMITATION OF LIABILITY THAT APPLIES TO ALL DAMAGES OF ANY KIND, WHETHER IN CONTRACT OR TORT. NOTWITHSTANDING THE FOREGOING, APPLICABLE LAW MAY NOT PERMIT THE LIMITATION OF LIABILITY SET FORTH IN THIS PARAGRAPH. THIS LIMITATION OF LIABILITY MAY NOT APPLY TO YOU. PURSUANT TO APPLICABLE LAW YOU MAY HAVE RIGHTS IN ADDITION TO THE RIGHTS CONTAINED HEREIN.
AGREEMENT TO ARBITRATE AND CLASS ACTION WAIVER
YOU AND HIBBETT AGREE THAT: (1) ANY CLAIM, DISPUTE, OR CONTROVERSY MUST BE RESOLVED THROUGH ARBITRATION; (2) WE ARE EACH WAIVING THE RIGHT TO A TRIAL BY JURY; (3) RIGHTS THAT WE EACH WOULD HAVE IF WE WENT TO COURT, SUCH AS DISCOVERY OR THE RIGHT TO APPEAL, MAY BE MORE LIMITED OR MAY NOT EXIST; (4) WE EACH MAY ONLY BRING A CLAIM IN OUR INDIVIDUAL CAPACITY, AND NOT AS A PLAINTIFF OR CLASS MEMBER IN ANY PURPORTED CLASS OR REPRESENTATIVE PROCEEDING; AND (5) THE ARBITRATOR MAY NOT CONSOLIDATE PROCEEDINGS OR CLAIMS OR OTHERWISE PRESIDE OVER ANY FORM OF A REPRESENTATIVE OR CLASS PROCEEDING.
Any claim that all or part of this class action waiver is unenforceable, unconscionable, void, or voidable may be determined only by a court of competent jurisdiction and not by an arbitrator. Any dispute or claim arising out of or relating to the Hibbett Rewards Program shall be settled by binding arbitration. You and Hibbett waive the right to go to court and agree to submit any claims to arbitration. This arbitration provision is governed by and enforceable under the Federal Arbitration Act (the "FAA"), 9 U.S.C. §§ 1-16, as amended.
Notwithstanding the foregoing, we both retain the right to pursue in a small claims court any claim that is within that court's jurisdiction and proceeds on an individual (non-class, non-representative) basis. With the exception of residents in New Jersey, you agree that regardless of any statute or law to the contrary, any claim must be filed within one (1) year after such claim arose or be forever barred.
The arbitration shall be administered by the American Arbitration Association ("AAA") in accordance with its Consumer Arbitration Rules issued in Sept. 2014. Please contact the AAA for a copy of the rules. For your convenience, arbitration may be conducted in the federal district where you reside. It may be held by telephone or through written submissions if both you and Hibbett agree. Any award rendered shall include a written opinion and shall be final, subject to appeal under the FAA. This provision survives any termination of your membership in Hibbett Rewards. If the class action waiver is deemed unenforceable, then this entire arbitration provision shall be rendered null and void.
YOU HAVE THE RIGHT TO OPT OUT OF THE ARBITRATION PROVISION WITHIN THIRTY DAYS OF YOUR FIRST USE OF THE PLATFORM OR YOUR PURCHASE OF A PRODUCT (WHICHEVER IS FIRST) BY WRITING TO US VIA U.S. CERTIFIED MAIL, RETURN RECEIPT REQUESTED, TO HIBBETT SPORTING GOODS, INC., 2700 MILAN COURT, BIRMINGHAM, AL 35211, ATTN: LEGAL DEPT.