How to Create a Basic Capsule Wardrobe for Kids
Nov 1, 2019
Starting a family comes with its own list of challenges, from which hospital to chose to where they will go to school, lets not even start with picking out names. The big things are always at the forefront and sometimes the little things like how to dress them slip through the cracks.
Even with all the hassle, there are plenty of joys in being a parent, too. At Hibbett | City Gear, we're here to make your job a little easier by giving you some capsule wardrobe options for your kids. These easy outfits will take your littles from the school bus to the soccer field.
But first, what is a capsule wardrobe? In a nutshell, it is a collection of versatile clothes your child can mix and match all year or (let's be honest, kids grow super fast) at the very least all season long. From summer to fall, fall to winter, winter to spring and back to summer again. Pick something like an athletic base for your little ones like leggings or sweatpants and their favorite shirts or graphic tees add some layering options and just like that they are ready to tackle the season and look fresh while doing it. If you don't know where to start check out some of Hibbett | City Gear's suggestions:
Girls' Capsule Wardrobe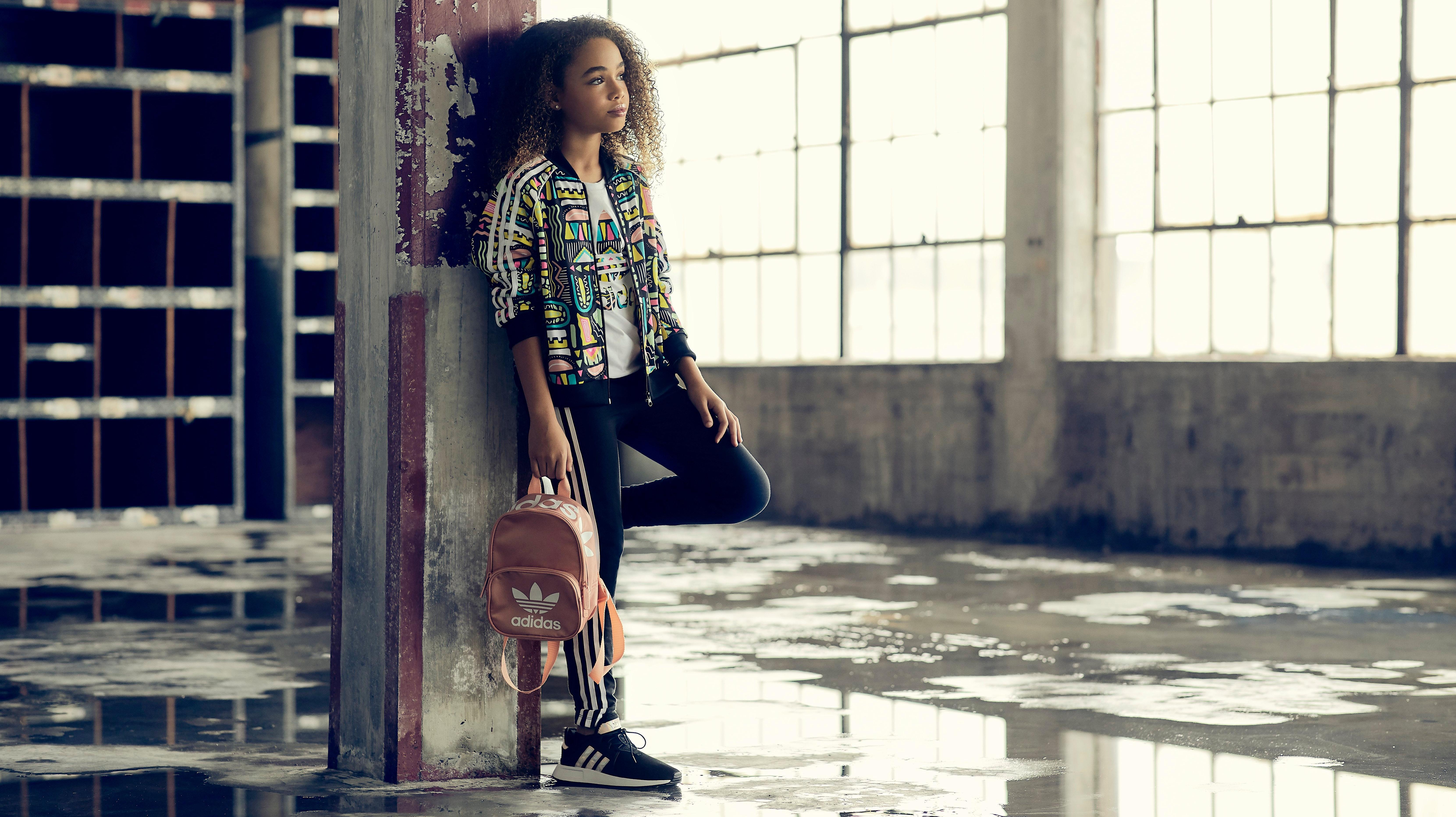 Look No. 1
The fun and versatile girls' adidas Belaire 3-Stripes Leggings your superstar can perfectly pair them with any casual outfit. With its multicolored stripes along the side, these are ideal with numerous top options. She can rock them with the matching Belaire Trefoil Tee. Your daughter will love the many colors in this beachy and abstract graphic tee, her second most favorite color may be in there as well. On cold days, let her put on this Nike Sherpa Jacket. Send her off on those cold mornings with a jacket as warm as your extra tight hugs to follow her throughout her day. With holographic stripes along the side, the adidas X_PLR Icy Pink grade-school sneakers complete this look.
Look No. 2
Whether she's killing it on the monkey bars or acing that history test you helped make her make flashcards for, compression shorts like the Nike Pro Girls' Training Boyshorts provide all-day comfort and the stretch she needs to beat all the competition. Top the shorts with a pink Under Armour Girls' Heatgear Tank Top. On chillier days add an oversized Under Armour Girls' Sportstyle Fleece Crew Sweatshirt. Finish off the outfit with a pair of Nike Free RN 5.0 shoes.
Look No. 3
Flexibility is a must with Capsule Wardrobes and this look is absolutely flawless. Being able to go from school hours to cheering on the sidelines or courtside is crucial. Go from math speed test to cheering on her best friend with these Nike Air Favorite Leggings. Pair with the fun color-blocked design of the Jordan Girls' Cropped Pullover Hoodie. Along with the apparel racing from the classroom to the movie theatre in the Jordan 6 Rings "Black/Metallic Gold" Shoe is just what she needs to make a statement.
Boys' Capsule Wardrobe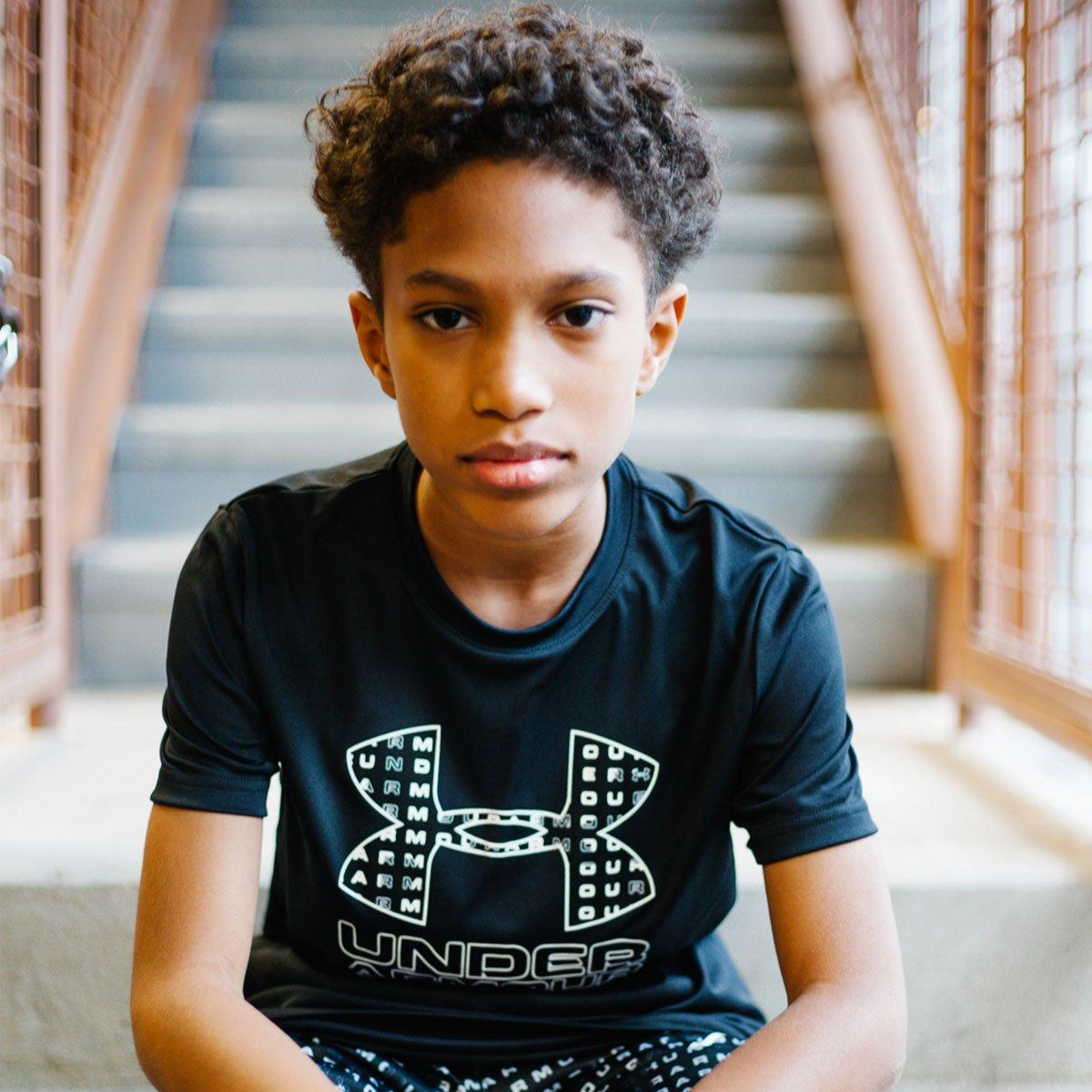 Look No. 1
Meet your guy's new favorite warm-up pants — the Under Armour Boys' Brawler 2.0 Tapered Pants. What will they love about them exactly? They're light, comfy, and have a tapered fit for a clean look. Your little ninja will be in total stealth mode with the monochromatic look with a black Under Armour Boys' Print Fill Big Logo Tee, and layer on the Jordan Boys' Camo Full-Zip Hoodie because he can't be seen when he is fighting the bad guys outside before he gets in the car. Pop on a pair of Under Armour HOVR SLK shoes to make him run even faster.
Look No. 2
What's more comfortable than basketball shorts? When your little dude is lounging around the house or going to dunk on his friend up the street something like the Nike Elite short and Nike Sportswear Stamped Tee would be wonderful. Now that his outfit is out of the way you have to make sure he has the right socks and shoes for the right moves in the gym or in the yard and the Kyrie 5s and the Nike basketball crew socks are perfect for him.
Look No. 3
One thing that has to be a staple in your little man's wardrobe is black track pants. With their loose fit and comfortable fabric, Champion track pants are the right fit and would be great for lunchroom to the dinner table. Pair the pants with a white Champion long-sleeve tee for a light layer, along with the Champion Rally Pros. For an extra layer of warmth, The North Face has you covered with the boys' Glacier ¼ Snap Pullover.
The beauty of each of the above looks is you can play around with the pieces, swapping them out for many wardrobe options. Head into one of our stores, or shop Hibbett |City Gear online to complete your kid's wardrobe.